Towing, Roadside Assistance and Hauling in the North Bay area
When you are in need of a tow, require breakdown assistance, count on A&S Towing to be there when you need us most! Don't stay stranded at the side of the road in the cold! Call us at +1 705.497.8565
We pride ourselves in quality towing. Are you under a deadline? Our ultra fast team will help you when you need towing. We will do whatever it takes to make your disabled vehicle proceed under its own power.
If you've locked your keys in your vehicle, we have the unlock car professionals to open your door. When you have a flat tire and need a tire change fast, our tow truck drivers will rush to help you and your vehicle get anywhere around North Bay and surrounding areas, or change or repair that flat tire.
When you find yourself with a stalled car on the side of the road, we will send you a tow truck to tow you to a mechanic or wherever you want to be towed. We also offer long distance towing and hauling.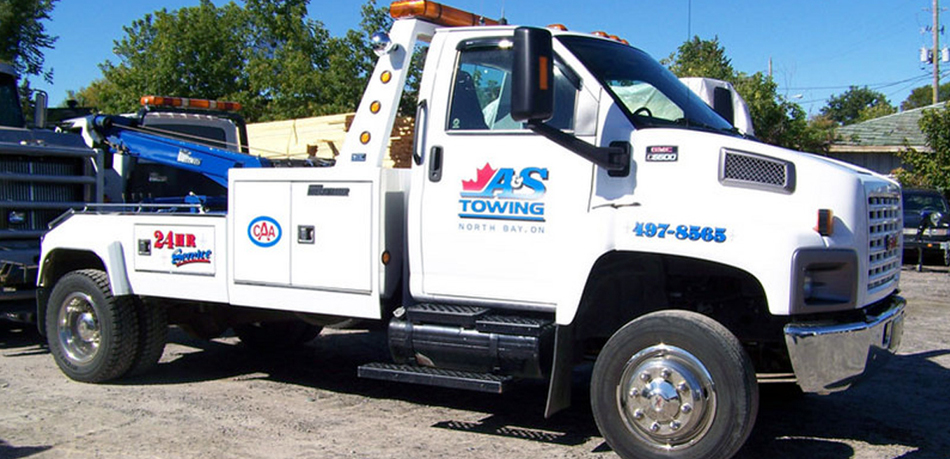 Our Towing and Roadside Services Include:
Wheel Lift Towing
Tire Change
Tow to a Repair Facility
Delivery of Gas
Mobile Home Towing
Open Trunk Services
Truck Towing
Motorcycle Towing
Vehicle boosting (cables provided)
Lockouts
Minor Repairs
Winching
Private Property Towing
Our Towing Service Area Covers:
North Bay
Callendar
Powassan
Bonfield
East Ferris
Corbeil
Redbridge
Temiskaming
Powassan
Trout Creek
Sundridge
Burk's Falls
Sturgeon Falls
West Nipissing
Many other areas
Safety First
Always ensure you are in a safe place before calling roadside assistance. Be sure your vehicle is off the road and you are in a safe place when using your cell phone.
Towing and Roadside Assistance in Action
Our Accreditations




We Accept